The most important thing I have found when moving to a new place is finding your roots. Finding comforting "I used to do this back home" activities or likeminded people who will help you stay grounded.
Coming to Korea is not my first time completely uprooting my life. After high school in the grand state of Maine I decided I wanted to go AWAY to college. I got accepted to a few schools in the northeast, but when I got my letter from the University of Tennessee my mind was completely made up. Yes, I have family in Tennessee and had visited many times in my childhood but none of them lived in Knoxville (the closest was about a two hour drive away).
It's almost shocking to think of how closely my experiences moving to Tennessee and moving to Korea mirror each other. In my first week both here and there I had met most of the people who would shape my experience. I met my core group of friends in Tennessee at the freshman picnic the first day of after moving in. Here I met most of the people at orientation.
Ok, so I cheated a bit. Bacon was here and he introduced me to his friends, but I think I would have settled in fine without him, just probably nowhere near as quickly.
BUT I have to say this: BRANCH OUT!!!
My friends are amazing, but they do not fulfill everything I need to make Korea my home. This semester (aka since January) I've started finding more and more interesting things to do around the city that are not just hanging out, eating, and drinking with friends. I've gotten back into singing, something I had almost lost in my last year in the states. I've been a classically trained singer since the age of 7, and have been singing most of my life. A friend of mine told me about the
Camarata Music Company
here in Seoul and told me I should try out. I joined their non-audition choir and was later accepted into the audition choir. The non-audition choir just completed a performance of Mendelssohn's "Elijah" and the chamber choir is working on music for a series of upcoming concerts. Getting back into singing has given me such joy and introduced me to some amazing people.
Seriously, these people are awesome.
I have also started taking gayageum lessons at the
National Gugak Center
. Gayageum is a 12 strong zither (like a harp that lies on the ground). It's been really amazing. They offer
music lessons for foreigners
in a variety of different instruments and for only 30,000 won (roughly $30) a semester. The instructors are very nice and passionate about sharing Korean culture with foreigners.
My Baby
An old ad, but it gives you the gist.


I plan on taking a Korean language class, though I currently have a language exchange-esque (me teaching them English, them teaching me Korean) set up with a friend of mine, but we'll get more into that later.
Whatever you were passionate about in your home country, you can be passionate about here. It might take a little searching but, believe me, it's out there. I've had friends take taekwondo, swing dancing, and even barista lessons here, and most of them will teach you in exchange for you helping them or other people in the class improve their English. There is also a wealth of volunteering opportunities doing anything from working with orphans to assisting North Korean refugees.
So, to sum it up: GET UP, GET OUT, AND DO SOMETHING! If you don't, be ready for massive culture shock and a horrible ostrich complex!!!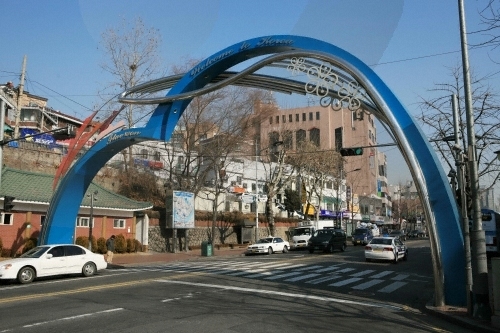 Itwaewon may be the easiest place in Korea for a foreigner, but there's no excuse for never leaving it.