WARNING! WARNING! WARNING! WARNING!
The Sejongno branch of Seoul Immigration has MOVED!!! Do not make the same mistake so many other expats have made! It is now MUCH easier to find (thank GOD).
Directions for Sejongno Branch of Immigration: Just go out Jonggak Exit 6, walk straight, and it is on the second floor of the Seoul Global Center building.
This post is kind of just an excuse to get that info out there. Most of the blogs you find when searching online about the branch are super old ones and lead to COMPLETELY to the wrong place. ALWAYS CHECK THE DATES OF ANY BLOG POSTS YOU ARE READING! So much changes here so quickly that blogs that are more than one or two years old might lead you to businesses that no longer exist or have moved, directions from before a subway stop changed the numbers of all the exits, or to a station that USED to be the closest, but now there's a new one that is closer!
I guess I should write about more stuff though, shouldn't I?
Ways to Avoid Immigration Hassels
1) Go to the right branch!
There are 2 branches of Seoul immigration each servicing a different section of Seoul. If you do not live in the boroughs (in Korean, Gu) that immigration office services they WILL deny you service and send you to your appropriate branch. There is the Mokdong Branch and the Sejongno Branch. Sejongno is for most of the Gu northeast of the Han River. If you live in Jongno-gu, Jung-gu, Eunpyeong-gu, Jungang-gu, Dobong-gu, Seongbuk-gu, Gangbuk-gu, or Nowon-gu you
MUST
go to Sejongno. If you live anywhere else in Seoul you should go to the Mokdong Branch.
Sejongno Immigration Directions: Just go out Jonggak Exit 6, walk straight, and it is on the second floor of the Seoul Global Center building.
Look for this massive logo outside!
Mokdong Immigration Directions: Omokgyo Station exit 8, walk straight, take a left at the CitiBank, walk straight, pass the Temple, continue to walk straight, the Mokdong Immigration Center will be across the road.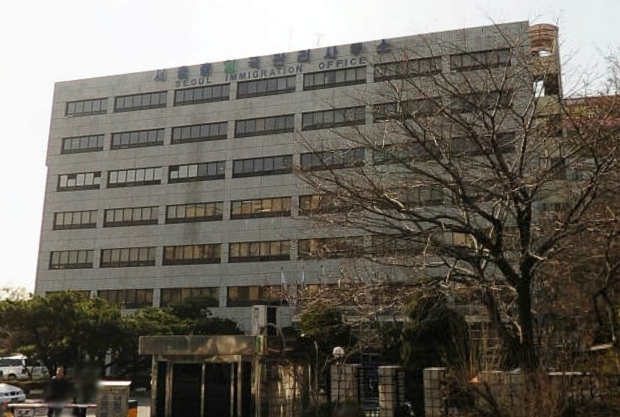 Here's what the building looks like
2) Make an Appointment
You can make a
ppointments to see immigration officers
using the immigration website. You will need to register with the website and the appointment page appears to frequently not work. It is also highly recommended that you make an appointment VERY far in advance, since these tend to get snatched up pretty quickly. It's rare that you'll be able to get an appointment if you are planning only a week or two in advance. I suggest making one a month in advance.
3) Get there SUPER EARLY!
EVERY.DAMN.TIME.
No matter the day, no matter the time of year, immigration is always CROWDED AS HELL!!! Get there early. We're talking like 30 minutes to an hour before the place even OPENS early! For my latest renewal I go there 30 minutes before they opened and was 50th in line. My friend arrived only about 20 minutes after me and was 171st. If you have somewhere you need to be that day PLEASE get there as early as possible. They will actually stop giving out waiting numbers once they've reached too many people.
4) Make sure you have ALL your documents!
Seriously, bring every piece of paper you have ever been asked to provide of proof of your identity ever. That participation ribbon from the 5th grade science fair might prove useful.
To be clear, though, for your
first time registering AS WELL AS if you are switching to a new school
you NEED to have a copy of your contract AND the original contract, a copy of your school's business license (NOT SMOE, GEPIK, EPIK, or the corporate office of you hagwon, your SPECIFIC SCHOOL'S business license), your passport AND a copy of your passport, your apostilled post-secondary school degrees (
ALL OF THEM
), a passport-sized photograph (
even if you don't need a new card
), and your apostilled FBI background check (don't know about requirements for non-Americans, sorry!).
If you are
continuing your contract at your school from the previous year
you will only need your new contract and a copy of it, your passport, your old ARC, a passport sized photo, and a copy of your school's business license (they said online they needed it, but the lady didn't even ask for it this time).
5) Pay Up!
ok... so it won't really cost THAT much....
As soon as you get your number for the queue head to the payment desk. For renewing your Alien Registration Card (essentially your Visa) it's 30,000 won. I can't remember how much it was to get the ARC in the first place, I wanna say it was 50,000 won. At the payment desk tell them what you're there to do and they'll give you stamps to attach to your application form.
EXPERT LEVEL TIP:
If you are getting your first ARC
or
know that you will need a new card (if your current card is damaged or has had an address change already written on it and you need to change your address again) then you can also get a delivery envelope from this same counter. The office will just mail you your new card and you won't have to come back to the office a second time!
6) Fill out your forms
It will be pretty obvious which forms are for you. Make sure you are filling out the right ones for E2, F4, or Student Visas. Hopefully, your school will be extra awesome and have some of these in their office so you can arrive with the forms already completed. Fill them out completely. Don't worry about the bubbles at the top for "reason for application." These have SUPER confusing language and will make you panic ("wait... I am renewing my registration but am also changing my address, but am also changing information in the system... do I need three forms?!"). I even suggest leaving them blank and then just telling the immigration agent what you're doing. I'm sure they won't be too pissed about making a few checkmarks. Oh, and you totally only need to fill out one form.
7) Bring something to occupy yourself, it's gonna be a long wait
Blame it on the alcohol?
It's really a crap-shoot as to how long it's going to take them to get to you, so it's best to not leave after getting your number, even if you're way down the list. I was 50th on the list after getting there 30 minutes before opening and it took about two hours for them to get to me. My friend was 171st after arriving only 20 minutes after me and, come 1pm, they still hadn't cracked the 100 mark. This was because, after their lunch break (where ALL the officers leave at the SAME time... ridiculous), one of the officers didn't come back. One of the officers got tied up with something super complicated (apparently) for like an hour and another had only helped 5 or so people over the course of an hour and a half. She eventually had to leave because she needed to be at school. I've once waited longer than 5 hours...
I believe you, Rose.
I always bring my laptop (Adventure Time makes any wait 70% less painful) but you should probably have at least your phone with FULL battery... maybe even your back-up battery as well.
There you have it! Please be careful! Triple check that you have EVERY PAPER THEY COULD EVER ASK YOU FOR and, if possible, bring someone who is Korean with you so they can make sure the immigration officers don't screw you over (it's happened before and having a Korean has proven to be an asset).
How have you experiences been with immigration?